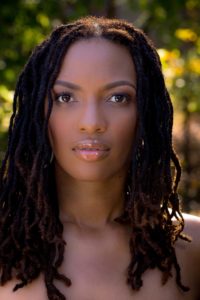 Shani Jamila is a visual artist and the host of Lineage, a podcast featuring artist to artist dialogues about how the idea of home influences the creative practice and society at large.
An Aspen Institute Scholar, TED Resident and Fulbright fellow, she exhibits and lectures internationally.  Her travels to nearly fifty countries deeply inform her painting, photography and collage practice. Shani's work has been presented at the Manifesta European Contemporary Art Biennial, Reginald F. Lewis Museum, Centro Provincial de Artes Plásticas y Diseño, Smack Mellon, Corridor Gallery and Ethelbert Cooper Gallery. She's spoken about the arts and society at institutions including Harvard, NYU, Odeon Firenze, the New York Times and the United Nations, in addition to hosting live discussions at the Brooklyn Museum, Aperture Foundation, Lincoln Center, and New York Live Arts.  
Shani has been named a 2019 Artist in Residence at the Ace Hotel and MASS MoCA. Her portrait and quote are featured in "A Choice to Change the World," a mural of socially engaged artists and advocates at her alma mater Spelman College.
Click here to watch Shani's TED Talk, Reimagining Resistance Through Art.