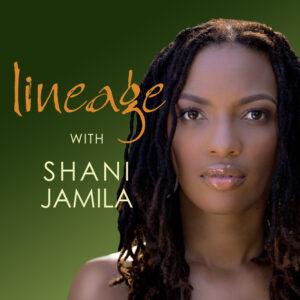 Lineage is a series of intimate, in-depth conversations with contemporary socially engaged Black artists.
This program is part of a multi-platform storytelling project that grounds the practice of conceptual artist Shani Jamila. She makes work in response to centuries of family records meticulously researched by her genealogist grandmother. Her abstract pointillist paintings and soundscapes explore ancestry, identity formation, and the idea of home. On the Lineage podcast, Shani curates and hosts a series of interviews with fellow artists about these same themes. Together they help shape an intergenerational narrative of Blackness in America.
Tune in to hear personal dialogues with some of our most imaginative thinkers– including Pulitzer Prize winning writers Lynn Nottage and Tyehimba Jess; MacArthur geniuses musician Jason Moran, poet Reginald Dwayne Betts, and performer Okwui Okpokwasili; award winning choreographers Jawole Willa Jo Zollar, Camille A. Brown, and Rashida Bumbray; and celebrated visual artists Ming Smith, Firelei Baez and Derrick Adams.  
The inaugural season featured New York City based artists. Season Two invites artists from across the nation to join a living archive of voices interrogating what it means to create home in this country during this time. Bi-weekly broadcasts began on March 2nd with the legendary poet Sonia Sanchez, and will conclude with the renowned Carrie Mae Weems. Click here to watch We Hold These Truths, our film that features inspiring reflections on ancestry by Lineage artists across multiple disciplines, and subscribe wherever you get your podcasts to receive new episodes every other Tuesday!
ABOUT THE FILM
Launching February 18, 2021— in honor of the birthdays of literary giants Toni Morrison and Audre Lorde, and the anniversary of the very first Lineage broadcast– We Hold These Truths is a new meditative film directed by Shani Jamila and produced  with the  Park Avenue Armory. The film introduces the artists featured in Season Two of Jamila's Lineage Podcast + Portrait Project. We Hold These Truths includes inspiring reflections by artists across multiple disciplines, on some of the truths learned from their elders that have rooted them in these challenging times.  
ABOUT SEASON TWO
Announcing the new season of the Lineage Podcast + Portrait Project!  Season Two will include conversations with renowned creatives and thought leaders Firelei Báez, R. Dwayne Betts, Camille A. Brown, Aimee Meredith Cox, Kamilah Forbes, Shani Jamila, Marc Bamuthi Joseph, Kiese Laymon, Fabiola Jean Louis, Haki Madhubuti, Alicia Hall Moran, Jason Moran, Lynn Nottage, Mary Lovelace O'Neal, Wendi Moore-O'Neal, Fahamu Pecou, Sonia Sanchez and Carrie Mae Weems. Subscribe, rate and review us on Apple Podcasts, Spotify and all podcast platforms, and stay tuned for new episodes with each of the featured guests every other Tuesday.
ABOUT SEASON ONE  
The first season of Lineage is brought to you by the generosity of our campaign supporters, with special thanks to our Founders Circle: Amika Carter, Ayana Dixon, Vera Grant, Lawanda Hodges, Ayana Minor, Wendell and Helen O'Neal, Rimani Rogers, Jimmy and Leigh Sutton, Chantal Veira, Stacee Burton White and our associate producers the BK Fam. The inaugural guests include an array of Brooklyn based, socially engaged visual, literary and performing artists. Live shows have been recorded at the Brooklyn Museum, Soho House & Ace Hotel. 
Lineage's theme music is composed by Codygotbeatz. Graphic Design by Tony Moore Images.
LISTENER REVIEWS
"I love the opportunity to listen to these intimate conversations that reimagine what home means through the lens of these artists. You get to hear things I never knew of some of my favorite artists. Such rich conversations and history." — NDaughter
"Since I've been staying inside more due to quarantine, I've gained an interest in podcasts. Lineage is so, so good! Shani Jamila is a cool, compassionate and incisive host. Her guests are always so creative and *smart!* I'm listening to all of it because I can feel myself becoming more informed/ enlightened/ educated with each episode." –djmondayblue
"I love Shani's use of art to delve into deep conversations of politics, race and culture. Right up my alley!" –Lulucolins
"I truly appreciate this podcast from Shani Jamila. I find the wide range of artists very interesting for all lovers of art and culture. These artists who have made an impact in their varying artist communities are speaking on their journeys from the heart. It is an invaluable listening experience. I am looking forward to hearing more of these great podcasts. Great podcast!!!!" — Tompaul6
"This is the best distillation of art and politics I have come across in a long, long time." –g dollar