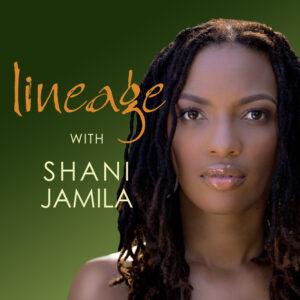 The Lineage Podcast + Portrait project features intimate, in-depth interviews about the idea of home with some of New York City's most imaginative thinkers– including MacArthur geniuses, Pulitzer Prize winners and Bessie Award recipients. In these broadcasts, host Shani Jamila speaks with her neighbors and fellow artists about how the city influences their creative practice, and how their work impacts the world.  She also makes photographic portraits of each interviewee.   
ABOUT THE HOST
Shani Jamila is a conceptual artist whose work explores identity, ancestry and the importance of place.  She utilizes her family's genealogical records as a primary source, and her travels to nearly fifty countries throughout the Americas, Asia, Africa, Europe and the Caribbean also deeply inform her practice. Shani has spoken about the arts and society at institutions including TED, Harvard, NYU, Odeon Firenze, the New York Times and the United Nations, in addition to hosting live discussions at the Brooklyn Museum, Schomburg Center, Aperture Foundation, Lincoln Center, and New York Live Arts.  She was appointed a 2020-21 Artist Fellow in fine arts/ painting at The National Arts Club and a 2019 Artist in Residence at the Ace Hotel and MASS MoCA. Her portrait and quote are featured in "A Choice to Change the World," a permanent exhibition at her alma mater Spelman College.
ABOUT SEASON ONE  
The first season of Lineage is brought to you by the generosity of our campaign supporters, with special thanks to our Founders Circle: Amika Carter, Ayana Dixon, Vera Grant, Lawanda Hodges, Ayana Minor, Wendell and Helen O'Neal, Rimani Rogers, Jimmy and Leigh Sutton, Chantal Veira, Stacee Burton White and our associate producers the BK Fam. The inaugural guests include an array of Brooklyn based, socially engaged visual, literary and performing artists. Live shows have been recorded at the Brooklyn Museum, Soho House & Ace Hotel. 
Lineage's theme music is composed by Codygotbeatz. Graphic Design by Tony Moore Images.